My
IP

Hide vs. Web Proxy

My IP Hide is better than web proxy because it's compatible with all the websites and it's much faster. Web proxy has problems with many websites and is much slower.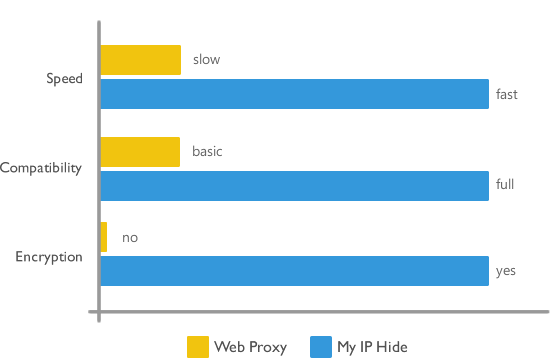 My
IP
Hide vs. Web Proxy (My-Proxy)
My

IP

Hide
My-Proxy
Technology
Enhanced Proxy
Web Proxy
Speed
Fast
Slow *
Compatibility
All Sites
Many Sites *
Encryption
Yes
No
IP Number
59 in 25 countries
4 in 2 countries
Price
$8.52/month
Free with AD
Overall
* Loading Speed: Web proxy needs to parse the web page. Then modify all the links and resource (image, style, script and flash) URLs. So it's slow. My IP Hide doesn't modify the pages. It only fetches pages for you. So it's much faster than web proxy.
* Compatibility: Web proxy doesn't support many sites which use Javascript or Flash heavily such as pinterest and video sites. And web proxy only supports the mobile/lite version of facebook, twitter, gmail, hotmail and yahoo mail. In contrast, My IP Hide supports all websites perfectly.
How to choose: It's easy. You should choose My IP Hide.
Try My

IP

Hide Risk-Free
30-day money-back guarantee